B-BRIGHTER · Better Bioprinting by Light-Sheet Lithography
Bioprinting is considered the most promising method to produce functional engineered tissues with physiological properties. Successful tissue engineering will open research avenues for drug testing and therapeutic and will therefore raise much interest not only in academia, but also the pharmaceutical and clinical sectors.
Current bioprinting methods are limited by combinations of insufficient speed, spatial resolution and cell viability. Moreover, the current technologies typically lack the control of tissue biomechanical properties, and consequently, the reconstituted tissues fail to mimic the heterogeneous and physiological nature of native tissues.
B-BRIGHTER will develop a novel bioprinting technology able to produce engineered tissues with high spatial resolution at high printing speed using an original top-down lithography approach. In contrast with current bottom up, layer-by-layer bioprinting methods, B-BRIGHTER aims at ultrahigh-speed digital light-sheet illumination strategy to selectively photo-crosslink cell-laden hydrogels mimicking specific tissues, in confined voxels and produce three-dimensional complex geometries. B-BRIGHTER also has a specific focus on establishing a business case for the light-based bioprinter.
This radically new bioprinting technology aims to boost the performance of various engineered tissues which in turn will promote improved healthcare opportunities, as well as business and employment advances in the European Union and beyond.
B-BRIGHTER will give continuity to the previous BRIGHTER project taking profit of the knowledge and know-how generated in the field of light-sheet bioprinting. The advances of BRIGHTER will be extended here by building complex bioengineered skin, cornea and gut tissue models, all of which represent pioneering examples for bioengineering, and its application for cell therapy, drug discovery and toxicology. Together with the work on patterning technology, bioink and application, a basis will be established for formulating a valid business case for a bioprinting product.
The work on exploitation activities will ultimately result in a go-no go decision for the industrialisation of a bioprinting product and a commercial path forward.
"The goal of the B-BRIGHTER project is to provide close-to-market demonstrator of the Light-sheet Bioprinter device together with a set of validated bioinks and bioprinting protocols. Aiming to achieve TRL5, B-BRIGTHER will test the developed technology in a relevant final user environment showcasing three complex tissues: the skin, the gut and the cornea."
TECHNOLOGY AND PROOF-OF-CONCEPT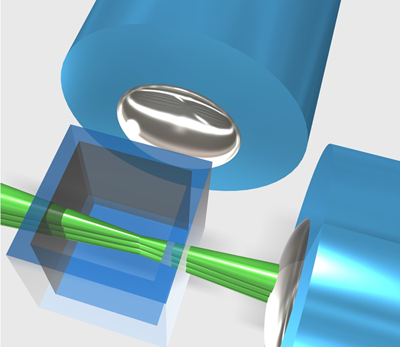 A hydrogel composed of living cells and photosensitive molecules is deposited in a special cuvette. A thin laser light sheet illuminates the gel following a programmed pattern (green beam). This leads to the formation of 3D micro-structures that reproduce the tissue architecture and function. The remaining, still liquid hydrogel is washed out after the printing process.
B-BRIGHTER will feature three complex tissues to test the new technology: the skin, the gut and the . All of them are barrier tissues that protect the body from pathogens, toxic substances and environmental stresses. The functionality of bioprinted tissues will be evaluated through morphological and barrier function tests.
Bioengineering complex tissues
Pioneering stem cell-based therapies
Large interest in academia, industry (cosmetics) and clínica (drug discovery, grafting)
Extremely high cell viability extremely low cell toxicity
Stem cell friendly ECM and niches
Tuneable niche biomechanics
High reproducibility
Tuneable stroma formation
Basement membrane
Epithelial stem cells
This novel approach will make for the first-time high resolution fully compatible with high speed in a bioprinting process.
This will lead to constructs that will faithfully mimic the heterogeneous architecture, biochemical and mechanical properties of cell microenvironment within tissues without compromising cell viability due to long bioprinting periods.
B-BRIGHTER technology will enable the bioprinting of key anatomical microfeatures of tissue such as invaginations, evaginations or wavy morphologies. It will also incorporate hollow vascular structures while maintaining tissue mechanical integrity without the need of additional sacrificial material. As a remarkable feature, matrix crosslinking density can be fine-tuned using B-BRIGHTER's approach, allowing the fabrication of cellular compartments requiring specific matrix stiffness such as stem cell niches.
Such capabilities open new venues in the bioprinting of complex tissues with their anatomical microfeatures and incorporating specific matrix properties to compartmentalize cells and/or allow vascularization.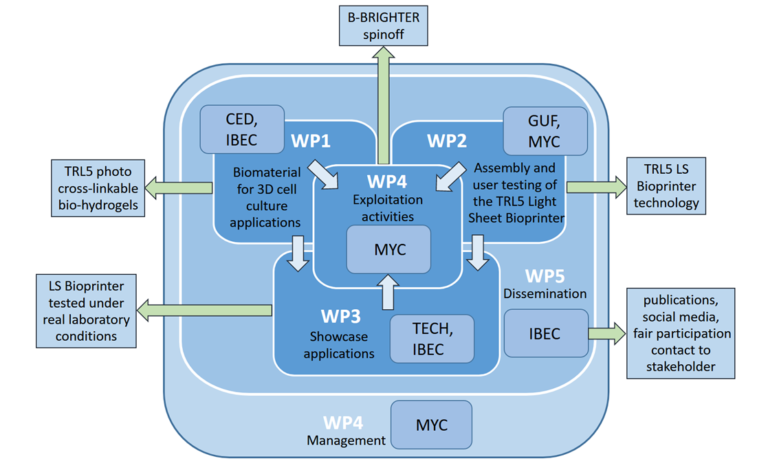 MYCRONIC
IBEC
GOETHE UNIVERSITÄT
CELLENDES
TECHNION
MYCRONIC

MYCRONIC AB, Sweden
NYTORPSVÄGEN, 9, Täby  183 03
PROJECT COORDINATOR
Department carrying out the proposed work:
Technology Development/R&D, Nytorpsvägen 9, Täby, 183 03 Sweden
Person in charge of the proposal:
Gustaf Mårtensson · gustaf.martensson@mycronic.com
Expert Complex Fluids
Mycronic is a Swedish high-tech company that has been active in the electronics industry for more than 30 years. The global organization with subsidiaries, agents and distributors supports industry leaders in more than 50 countries. The global footprint ensures that Mycronic has a deep market understanding and can provide rapid support for all their customers who rely on an efficient production. The company has above 900 employees, 450 patents, and more than 2500 customers. Mycronic creates world-leading production equipment for electronics and display manufacturing. Headquarters in Täby, north of Stockholm, Sweden. Local presence in more than 50 countries. 25% of the workforce in R&D. Wholly owned subsidiaries in China, France, Germany, Japan, Singapore, South Korea, Taiwan, the Netherlands, the United Kingdom and the United States. Owner of Shenzhen Axxon Automation Co., Ltd (80%), Automation Engineering, Inc. (100%), RoyoTech Digitalelektronik GmbH (100%) and Vi TECHNOLOGY S.A.S (100%). Listed on NASDAQ, Stockholm, Mid Cap. Certified to ISO 9001:2015/ ISO 14001:2015
For producers of advanced flat screen displays, the Mycronic technology is indispensable. The same holds true for some of the most agile and responsive circuit board manufacturers, who use Mycronic machines to produce a wide variety of the most complex boards in the world. And the automotive industry use Mycronic's fully automated production systems to assemble and test the camera modules used in Advanced Driver Assistance Systems (ADAS) in today's and tomorrow´s cars. The heavy investments in R&D is an indication of Mycronic's commitment to continuous innovation.
Role in the project
Mycronic is the coordinator of B-BRIGHTER project and will provide knowledge and manpower for system design for pattern generators as well as for pattern generator optics, servo, data channel and system control software. Digital photomasks will be used to generate patterned light sheet. The patterning is obtained by integrating in the DSLM the advanced acousto-optic modulator (AOM) system by Mycronic, which combines high resolution with short writing times. A dedicated data channel and control software will need to be developed. What Mycronic brings to B-BRIGHTER is a long experience in developing high precision optical pattern generators.
IBEC
GOETHE UNIVERSITÄT
CELLENDES
TECHNION
Only members of the B-BRIGHTER PROJECT consortium may have access to this intranet. Please request access to the project coordinators.